Welcome to Zombsroyale.io wiki!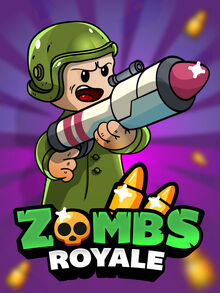 Welcome to the wiki. We're a collaborative community website about your topic that anyone, including you, can edit. Click the edit button at the top of any page to get started. If you aren't looking to edit anything, and just get info (please take time to edit though) we may recommend the wiki on the gamepad, as it is more up to date.
Work in progress pages
Need more weapons in the weapons page.
Feel free to tell everyone about your strategies in the strategies page.
Pretty much everything needs updating.
Recent Zombsroyale.io Updates
season 20!
on new weapons! The weapons are bolt MKll (sniper), KSC shotgun (tactic shotgun replacement), RAID Shotgun (powerful charging shotgun), and more!
the lucky lake is replaced!
Thor's Hammer unvaulted!
new skins!
SEASON EIGHT: CYBERPUNK!
Glitch into another future and peek into another reality: Cyberpunk! In this future can you explore all it has to offer, discover 250+ new cosmetics and items. Check back soon for more season-specific updates with new changes and new weapons.
New Zone: Cyber City
The future is here! Infantry Island has been invaded and hacked into Cyber City! Summer is almost here, the snow and cold looming over Lucky Lake is gone, the ominous horror that was Haunted Hollows have faded and Fortune Forest is back. Mysterious forces have begun to weaken and Celestial Clouds has disappeared.
New Weapons: XM8 & XBow
In addition to a new zone to fit the season, there are now two new airdrop only weapons. The XM8 is futuristic and is an extremely powerful burst weapon. The XBow with its high tech upgrades is able to fire 2 bolts at once!
Spawns as Mythic only
Can only be found in airdrops
Other Balancing Changes
VSS damage has been increased
UMP damage has been reduced *not sure why
Rubber Gun's maximum magazine size reduced from 30 to 21
Minigun range has been reduced *finally nerfed minigun spamming
Upgraded Scar damage has been reduced *perfect
New Zone: Wild West
Howdy, ya'll! Take your guns out to the old town road til you can't shoot any mo'
Links
locations